You guys remember a little while back, cloud streaming company Agawi released results from Touchmark benchmarking on Smartphones?
You know, when they test to see which smartphone had the best response time, starting from when your fingertip hit the screen to when the response happened?
The one that the iPhone 5 smashed like plates on anti-plate day?
Yeah, that's the one.
Well they've done it again- this time for tablets. And guess what?
The iPad mini and the fourth-generation iPad have the most responsive touch screens! Booya!
In the tests, Agawi tested both iPads, the Microsoft Surface RT, the Kindle Fire HD, the Nexus 7, the Galaxy Tab 3, and the Nvidia SHIELD.
Apple's iPad mini was the most bestest and Samsung's Galaxy tab 3 was the least bestest of them all. Sad Face Samsung!
There are the results, thanks to Agawi: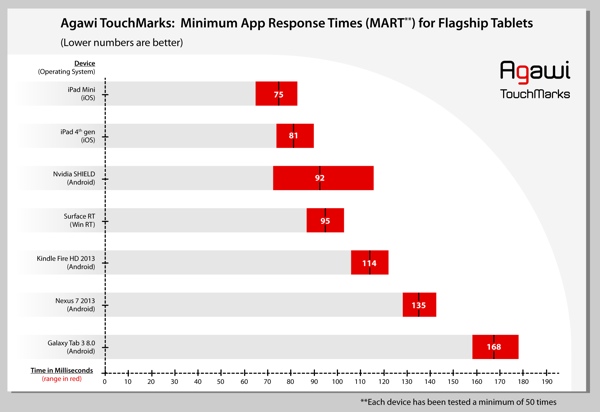 Seems like being the bestest at screen response time is becoming a thing for iOS devices. Kinda like wearing hypercolor in the 90's. That was iPhone Antidote's thing we were bestest at. Now our thing is buying stinky iPhones.  There's a path there somewhere.
What do you guys think, have you used several tablets and experienced a difference in screen response time?
Image courtesy of macorg.com